Its date of birth was in the year 1984. Since then, it has witnessed a steep rise in popularity. As in a flight of fancy, it conquered the bread basket, the breakfast table and the hearts of people, and even made eating dietary fibres socially acceptable. One is talking about the Kornspitz® grain roll, of which 4.5 million are eaten each and every day in 72 countries around the world. The flavoursome taste, the high proportion of fibres and its low Glycemic Index are precisely those "ingredients" enabling this popular roll to conquer the world.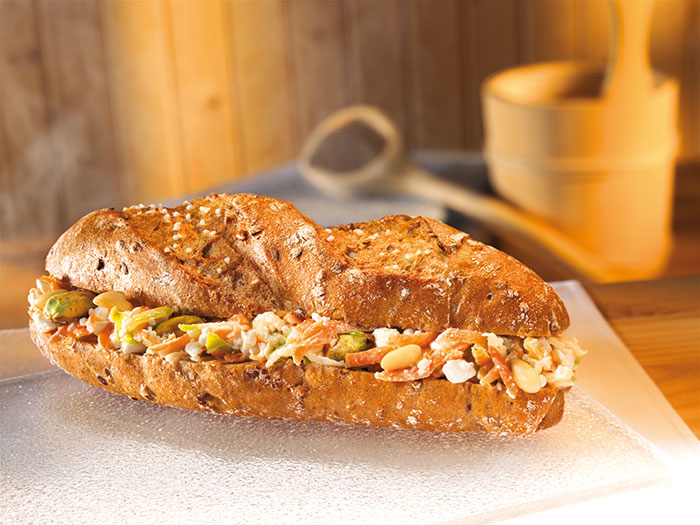 "Crispy, flavoursome and rich in fibres" – this short description best depicts what has emerged as an export hit from Austria for more than 25 years. The recipe continues to remain unchanged, and the Kornspitz® tastes the same way it has always tasted.
High-value Natural Ingredients
Kornspitz® is a brand of backaldrin and contains a balanced mixture of high-value natural ingredients, primarily cultivated on a regional basis: rye and wheat flour, bruised rye, wheat and soy grain, wheat malt, linseed and salt.
7% of Fibres
Due to the high proportion of bruised grains, which are actually grain seeds minced into small pieces, the Kornspitz® contains all the valuable ingredients found in the grain. The proportion of fibres is about 7 per cent, which is even higher than that found in most types of granola or muesli.
At the beginning of the 1980s, this cult brand from backaldrin also inaugurated a new era in nutrition. Dietary fibres became socially acceptable, and by now they have become an integral component of modern nutrition.
Vitamins, Minerals and Crucial Trace Elements
In addition to important fibres, the Kornspitz® also contains a large amount of B-vitamins, minerals (e.g. calcium and phosphorus) as well as crucial trace elements (e.g. iron, copper, manganese and zinc).
Kornspitz® – Happiness with "Glyx"
The Kornspitz® is in a class of its own when it comes to the Glycemic Index. A study carried out by the Department for Nutritional Sciences at the University of Vienna concluded that the Kornspitz® ranked at the top of the index, achieving a level of 43. As a result, the roll is positioned significantly below the threshold of 55. Due to the fact that the Kornspitz® is under 55, nutrition-conscious people concerned about their figures and following the Glyx diet can enjoy it as much as much as they want to.
The Kornspitz® celebrated its organic premiere in 1995.